PTM® Pretreat Machine
The PTM® Pretreat machine can dramatically improve your DTG print quality and production time. The industrial spray nozzle ensures a uniform spray pattern for perfect pretreatment every time, allowing for better prints and washability.
The PTM contains two bottles for pretreatment solution, so you can easily switch from pretreating dark garments to pretreating light garments. Any brand of pretreatment can be used.
Pretreating shirts is easy and fast. Just select the spray time and length, load the garment onto the platen, and press a button. In just a few seconds, you will have a perfectly pretreated shirt. Platens are easily changed in seconds – no hand sprayers required, and the mist remains inside the machine.
The touch-screen LCD control panel allows access to many settings, including adjusting presets, changing spray area, and changing nozzle speed to apply more or less pretreatment
The maximum treatment area is 19 x 15.5 inches with an adjustable spray length, and the spray cycle can be adjusted from 2 to 12 seconds.
Additional Equipment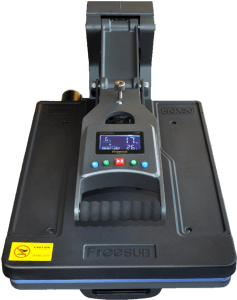 MESA carries a full line of heat presses. These items are not included with the machine but are available for separate purchase. Please consult with your sales representative for your individual needs.