Summit XT Direct to Garment Printer
Prints with CMYK and white inks / prints on light and dark colored t-shirts, garments and more
Maximum print size: 14.5 x 23.5 inches
1 inch wide ink-repelling print head helps keep print head clean for longer life
WICS (White Ink Control System) helps keep ink flowing smoothly to the print head and allows printing up to 30% faster
One Pass Printing - Prints white and cmyk inks in the same pass, cutting print times drastically (see video below)
Includes a 2-in-1 platen for one full-size print, or two 14.5 x 11.5 inch prints
Purchase of extra platens allows higher production rates - load a 2nd platen in while the first is printing
Bulk ink system offers significant savings over cartridge ink systems - buy ink in bulk and save big on ink costs
Serviceability - Award winning service department that backs the products with knowledge and knowhow
Toll free phone support: Most issues are actually resolved quickly over the phone, but if not, a certified technician can be scheduled for repairs
Warranty - Two year limited warranty covering non-consumable parts

View/Download PDF Brochure
Summit XT - Take Your Garment Printing to the eXTreme!
Printer starting at only $11,990. Ask about complete packages with printer, RIP Software, heat press, and supplies.
The Summit XT direct to garment printer combines stunning print quality, high efficiency and unsurpassed reliability into one rugged and elegant machine. Years of experience went into developing the best Direct to Garment printing solution for your business, resulting in the "Ingeniously Reliable" Summit XT DTG Printer.
Print in One Pass or Two Pass mode. Two pass is the traditional method - the printer lays down white ink first, then resets the platen and lays down cmyk inks on top of the white ink. With One Pass printing, the white ink and the cmyk inks are printed in the same pass, drastically reducing print times without any noticeable loss in image quality for most designs. Below, the Summit XT is printing a beautiful tiger design using One Pass.
Navigator RIP software works with the Summit XT's advanced print head technology to dispense variable sized ink droplets, giving the printer a high resolution to speed ratio and highly accurate prints. Navigator RIP makes many functions easier than ever, including automatically removing solid-colored backgrounds with ease.
The white ink control system (WICS) keeps your white ink flowing to reduce settling and clogging. It purges air to prevent ink from drying in the tubing and delivers ink to the print head in a method that can increase print speeds by up to 30%.
Summit XT DTG Printer Demo Video
Machine Specifications
Weight
Approx 123 lbs. (uncrated)
Dimensions (W x D x H)
34.6 x 35 x 14.5 inches
Power Requirements
AC 110-220V, 50-60Hz 150w maximum
Maximum Image Size
14.5" x 23.5"
What Our Customers Say
We thank you for sending a person who came with a purpose, was very knowledgeable in her field, and most importantly skilled in conveying her knowledge to us. It was a pleasure to have her expertise for the week.
Howard Morgan
Morgan Inc.
MESA has thousands of satisfied customers ranging from part-time apparel decorators who work from home to large companies with many machines. Read more customer reviews about MESA's products and services.
Additional Equipment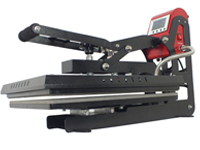 MESA carries a full line of
heat presses
. These items are
not included
with the machine but are available for separate purchase. Please consult with your sales representative for your individual needs.